The central bank issues banknotes and coins that have a modern design and reliable security features. The NBU monitors its banknotes throughout their lifecycle, which includes their design, production and circulation.
The hryvnia – Ukraine's official currency, and the kopiika, one hundredth of a hryvnia, were put into circulation during the currency reform carried out between 2 and 16 September 1996.
The currency's letter code is UAH, with 980 being its numerical code, the short form of its name in Ukrainian is "грн" and ₴ is its graphic symbol.
The issuing body is the National Bank of Ukraine.
1000 hryvnia banknote of 2019 design
Main picture of the front side — A portrait of Volodymyr Vernadskyi
Main picture of the back side — Presidium of Ukraine's National Academy of Sciences
Size, mm — 75 X 160
Print date — 2023
In circulation date — 20.07.2023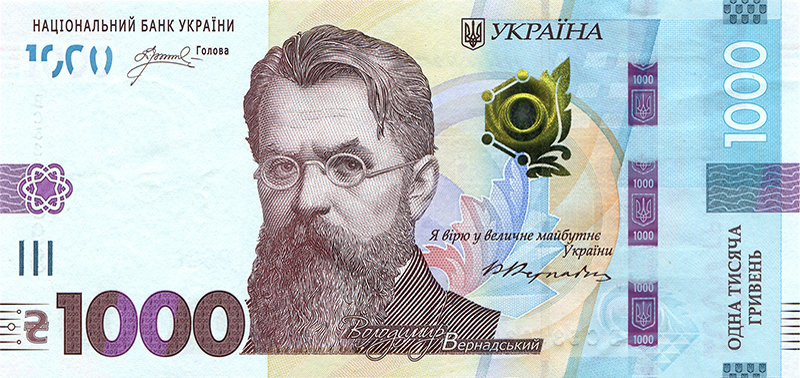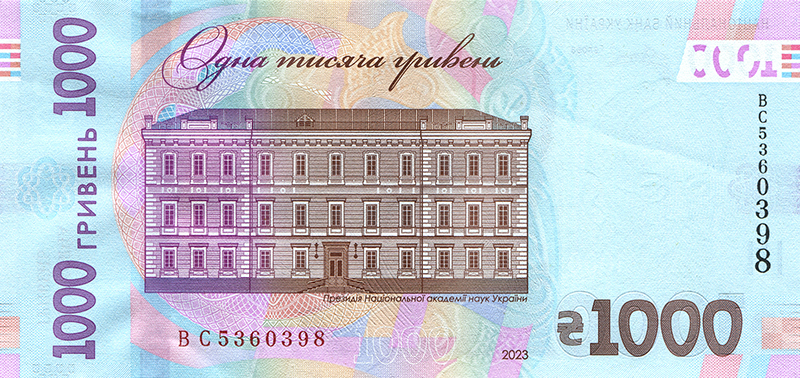 500 Hryvnia Banknote Designed in 2015
Main picture of the front side — A portrait of HRYHORYI SKOVORODA
Main picture of the back side — The building of the Kyiv Mohyla Academy
Size, mm — 75 x 154
Print date — 2023
In circulation date — 25.04.2023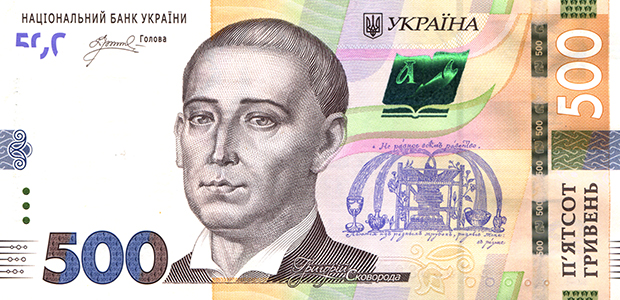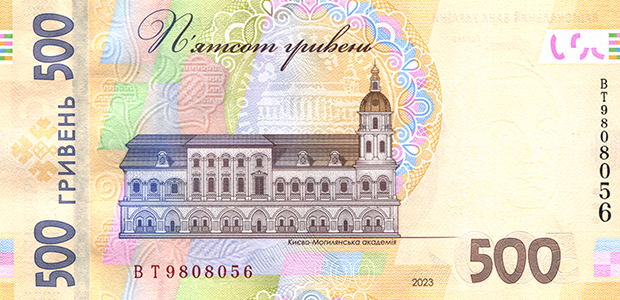 200 Hryvnia Commemorative Banknote Designed in 2019 (to the 30th anniversary of Ukraine's independence)
Main picture of the front side — A portrait of LESIA UKRAINKA
Main picture of the back side — The Gate Tower of Lutsk Castle
Size, mm — 75 x 148
Print date — 2021
In circulation date — 19.11.2021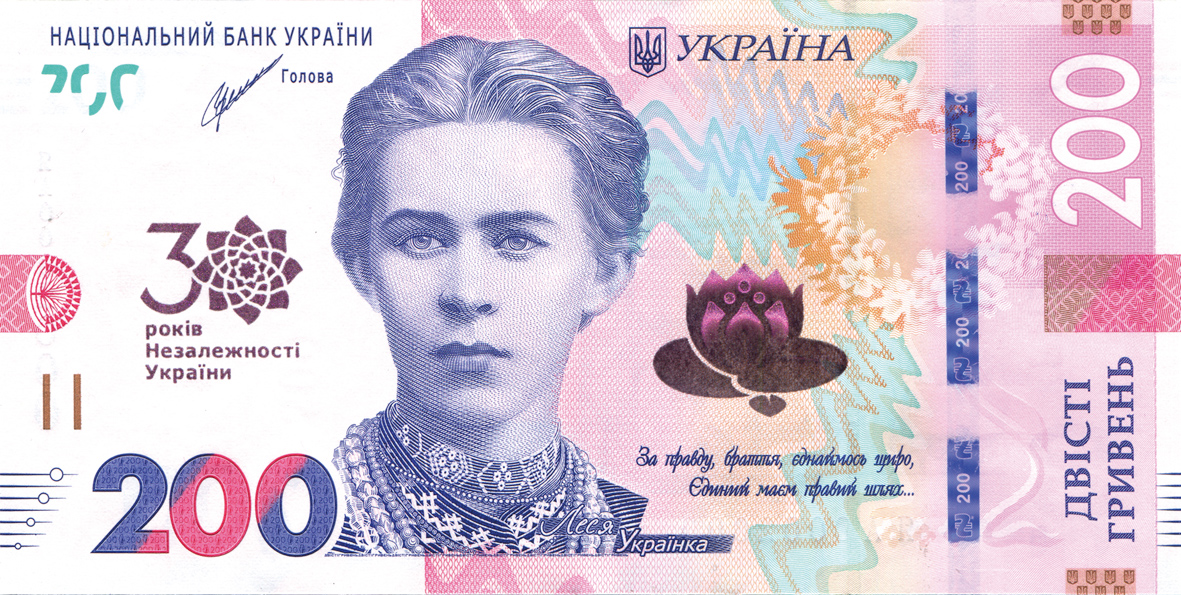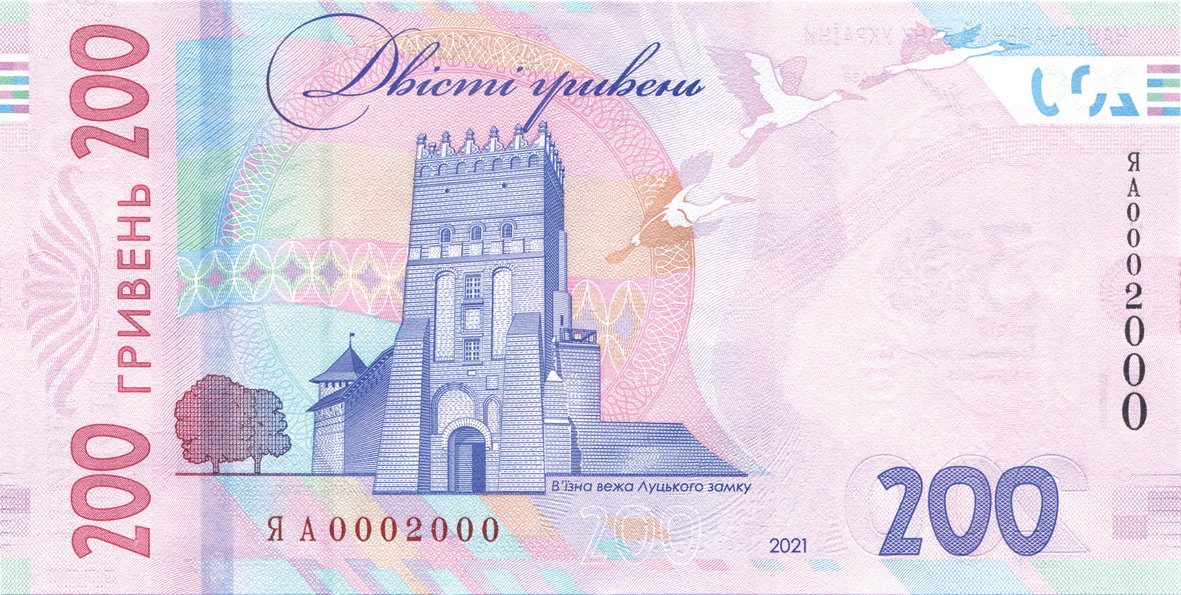 100 Hryvnia Banknote Designed in 2014
Main picture of the front side — A portrait of Taras Shevchenko
Main picture of the back side — The Taras Shevchenko National University of Kyiv
Size, mm — 75 x 142
Print date — 2022
In circulation date — 19.12.2022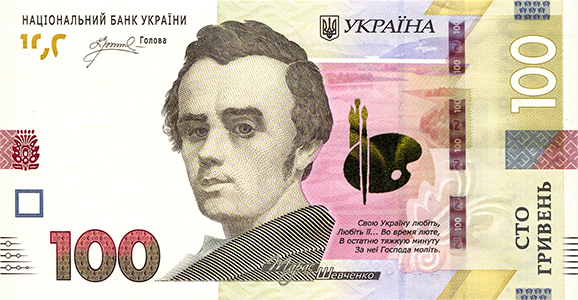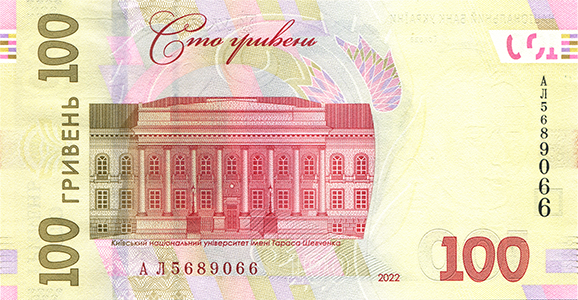 50 Hryvnia Banknote Designed in 2019 (to the 30th anniversary of Ukraine's independence)
Main picture of the front side — A portrait of Mykhailo Hrusheskyi
Main picture of the back side — The building of the Ukrainian Central Rada
Size, mm — 72 х 136
Print date — 2021
In circulation date — 22.12.2021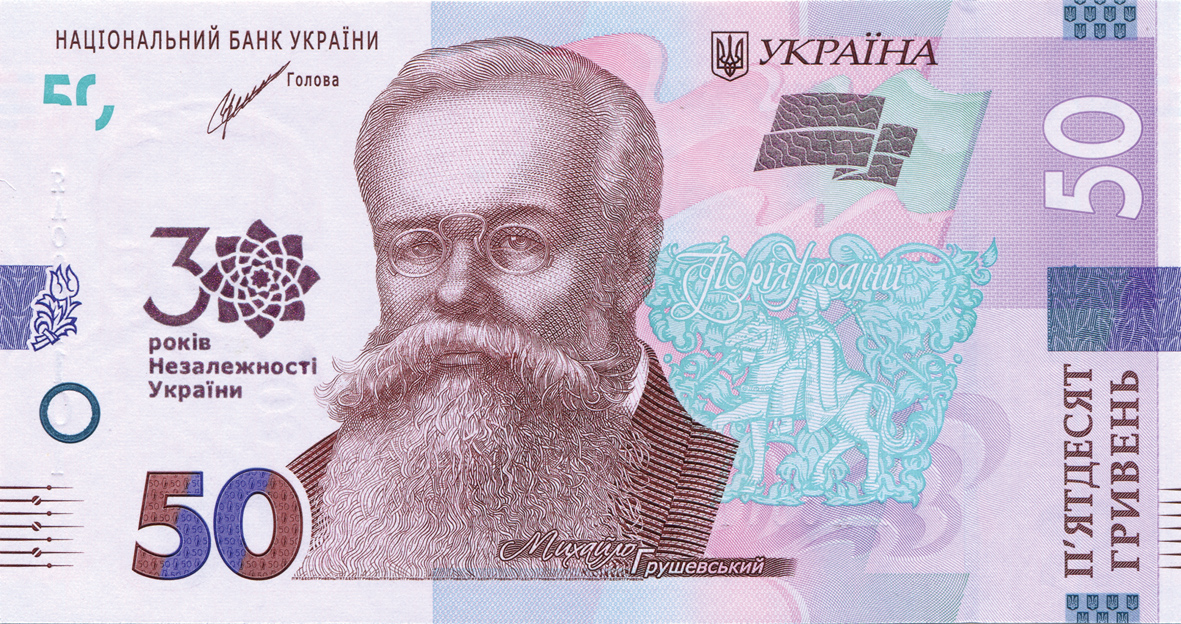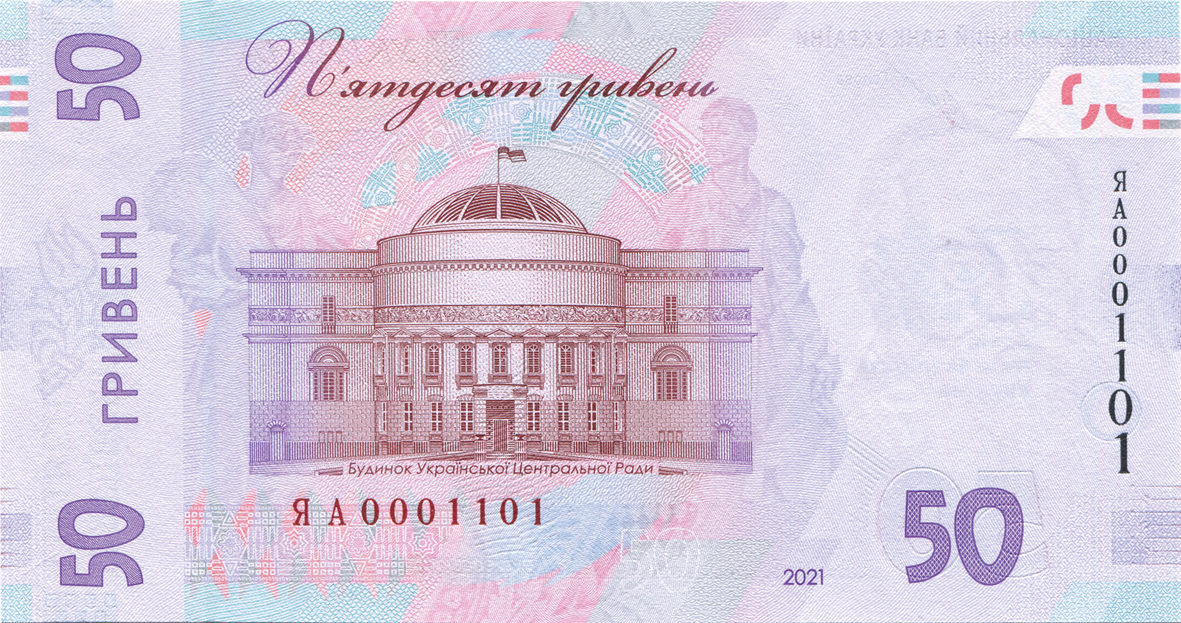 20 Hryvnia Commemorative Banknote Entitled "WE WILL NOT FORGET! WE WILL NOT FORGIVE!"
Main picture of the front side — three Ukrainian soldiers who are hoisting a Ukrainian state flag (photo entitled "Ukrainian soldiers are hoisting a flag" by Oleksandr Smirnov)
Main picture of the back side — fragments of a map of Ukraine and the flags of the countries that support Ukraine.
Size, mm — 80 x 165
Print date — 2023
In circulation date — 23.02.2023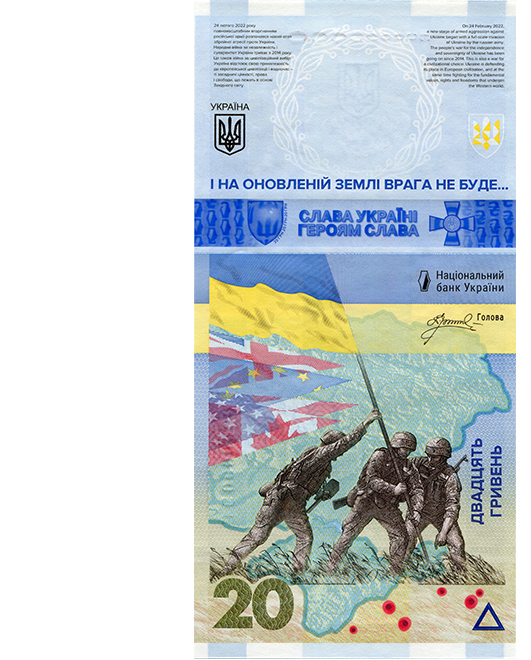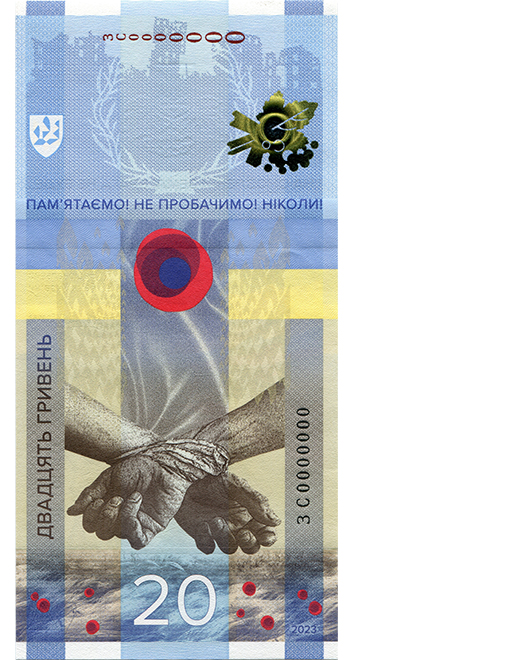 10 Hryvnia Banknote Designed in 2006
Main picture of the front side — A portrait of IVAN MAZEPA
Main picture of the back side — The Assuption Cathedral of the Kyiv-Pechersk Lavra Monastery
Size, mm — 66 x 124 мм
Print date — 2015
In circulation date — 11.04.2016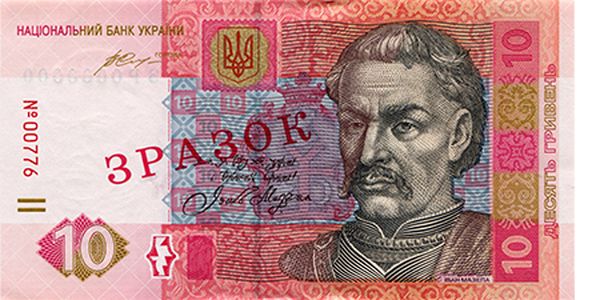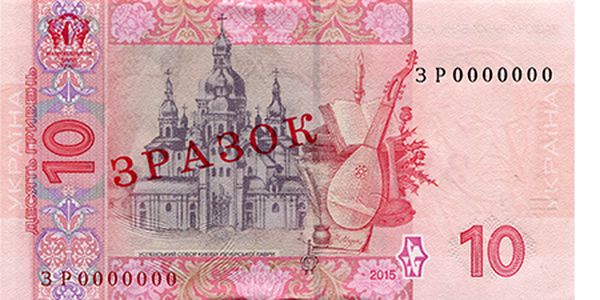 5 Hryvnia Banknote Designed in 2004
Main picture of the front side — A portrait of BOHDAN KHMELNYTSKYI
Main picture of the back side — The CHURCH in the village of SUBOTIV
Size, mm — 63 x 118 мм
Print date — 2015
In circulation date — 01.07.2015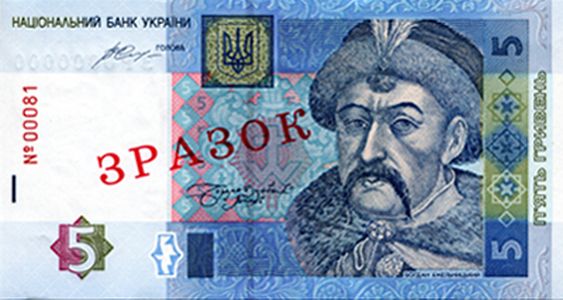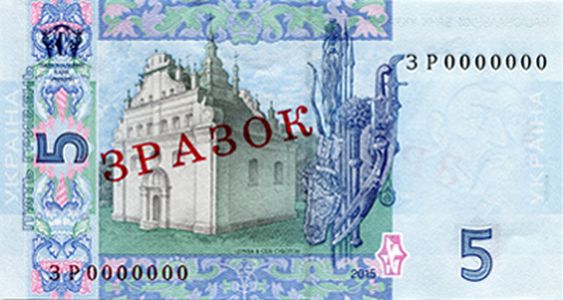 2 Hryvnia Banknote Designed in 2004
Main picture of the front side — A portrait of YAROSLAV the WISE, a GRAND DUKE of Kyiv
Main picture of the back side — The St.SOPHIA CATHEDRAL in Kyiv
Size, mm — 63 x 118 мм
Print date — 2013
In circulation date — 01.04.2013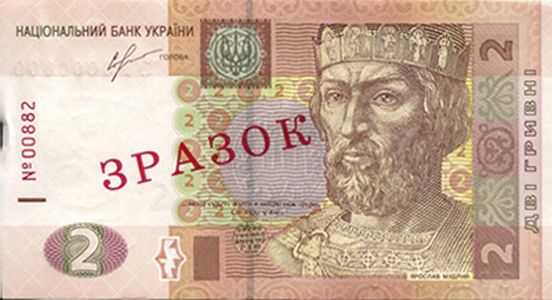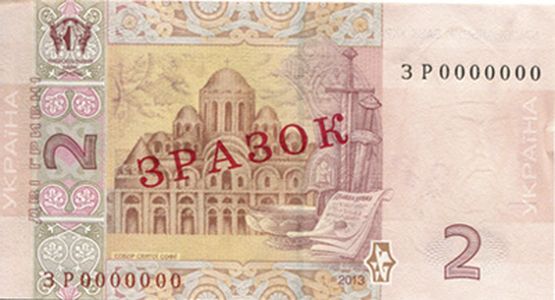 1 Hryvnia Banknote Designed in 2006
Main picture of the front side — A portrait of VOLODYMYR the GREAT
Main picture of the back side — The town of VOLODYMYR the GREAT in the city of Kyiv
Size, mm — 63 x 118 мм
Print date — 2014
In circulation date — 22.12.2014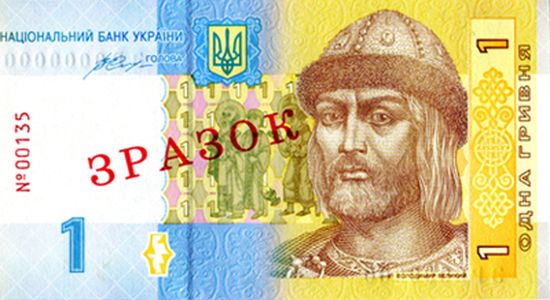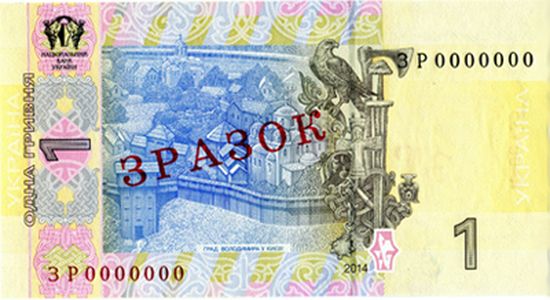 Being withdrawn from circulation