On 7 February 2019, the NBU launched a new regime of FX regulation that operates on the principle of what is not forbidden is allowed, which is at the core of the new philosophy behind the Law of Ukraine On Currency and Currency Operations adopted in 2018.
The new set of NBU regulations contains eight key regulations that stipulate the process and procedures for FX operations by residents and nonresidents, corporates and individuals, foreign and local investors, the implementation and cancellation of safeguard measures, etc.
As of now, the NBU has already cancelled most of the temporary anti-crisis restrictions imposed on the FX market in 2014–2015 to stabilize it. As regards the restrictions that are still in place, the NBU has already published a roadmap that gradually removes them and outlines prerequisites for a transition to free movement of capital – the ultimate goal of the FX liberalization.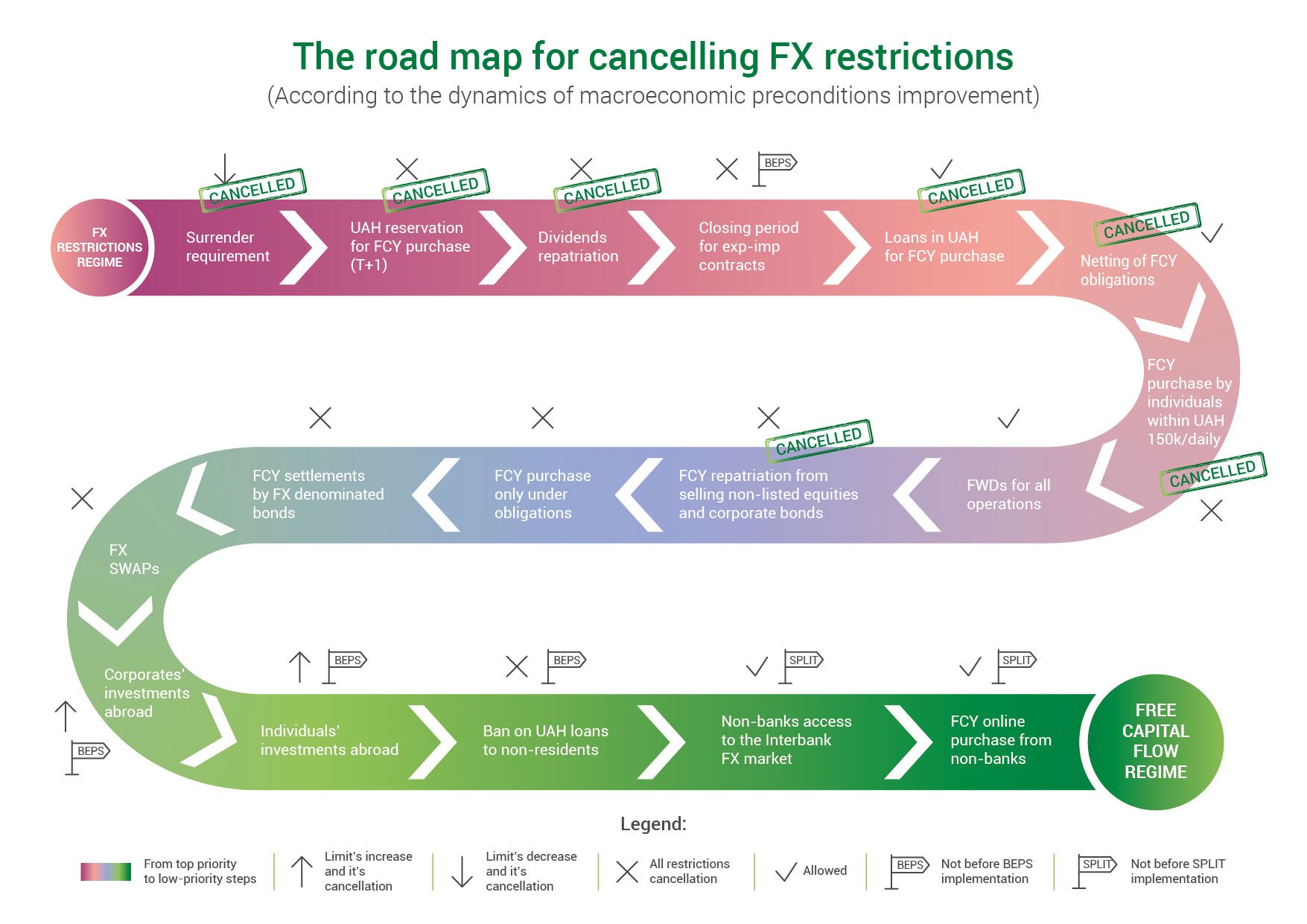 How can I invest in Ukraine?
- In Ukrainian currency (the hryvnia, UAH) or foreign currency (Group 1 and Group 2 of the NBU's currency Classifier);
- Investment can be made in:
shares
bonds
other securities
equity rights
any kind of movable property
real estate and related property rights, etc.
To create an enterprise, which is 100% owned by foreign investor, to open a branch or purchase the whole enterprise/company/firm
To purchase a share of already operating enterprise
To purchase real estate/movable property – houses, flats, premises, equipment, transport etc. by obtaining it directly or in form of shares, bonds and other securities
To hold a business (entrepreneurship) activity on product distribution agreements etc.
How can I make payments to Ukraine?
You can transfer funds (foreign currency or UAH) from abroad on your own account with local bank:
Current account
Investment account
Escrow account
Correspondent account.
The foreign currency on investors' accounts can be exchanged into UAH without any limits and vice versa, UAH can be freely exchanged to foreign currency and transferred abroad.
Funds from abroad can be transferred directly on resident's account in Ukraine. This resident can be a seller of the investment object, same as intermediary (f. e. securities trader)
The payments on the territory of Ukraine can be done in UAH/foreign currency from own accounts with other investors or residents, including nominee (omnibus) accounts in Ukraine
Payments also can be done via foreign custodian bank's correspondent account, which has a securities account at the National Bank of Ukraine (payments should be done on trading ukrainian government bonds only)
The own escrow account also can be used for purchasing ukrainian issuers' shares by «squeeze-out» procedure
Funds can be transferred from one own account to another, opened in a local banks, without any limitations;
The foreign investor can freely hold funds on deposits in UAH/foreign currency in local banks.
How can I repatriate my funds from investments to Ukraine?
Funds from investments (sale, reducing share in capital, incomes/dividends) can be obtained on accounts (current/investment/investor's correspondent accounts), opened in a local banks. These funds can be then transferred to accounts abroad
These funds also can be obtained on accounts abroad directly without transition through accounts in local banks.
Payments on such transactions, including cross-border transactions, can be done freely in:
UAH
Foreign currency (1st and 2nd groups of the NBU's Currency Classifier).
Such transactions can be done without any limitations in volumes and with proper documentation for financial monitoring purposes, provided to servicing bank. For example:
on dividends repatriation the servicing bank should have documentation, proving foreign investor's property on corporate rights/investment certificates of ukrainian issuer, which dividends are payed on and issuer's decision on dividends payment to foreign investor;
on selling local government bonds by foreign investor, providing an agreement on selling government bonds by foreign investor and an account statement (issued by custodian, which proves investor's property rights on government bonds on the date of transaction or which holds all information about transaction's performance) is enough to proceed;
For information: until recently Ukraine had a temporary set of safeguard measures, which contained limits on dividends and proceeds from selling securities, corporate rights etc. repatriation. As of now, these limits are cancelled completely for foreign investors.